Uzungol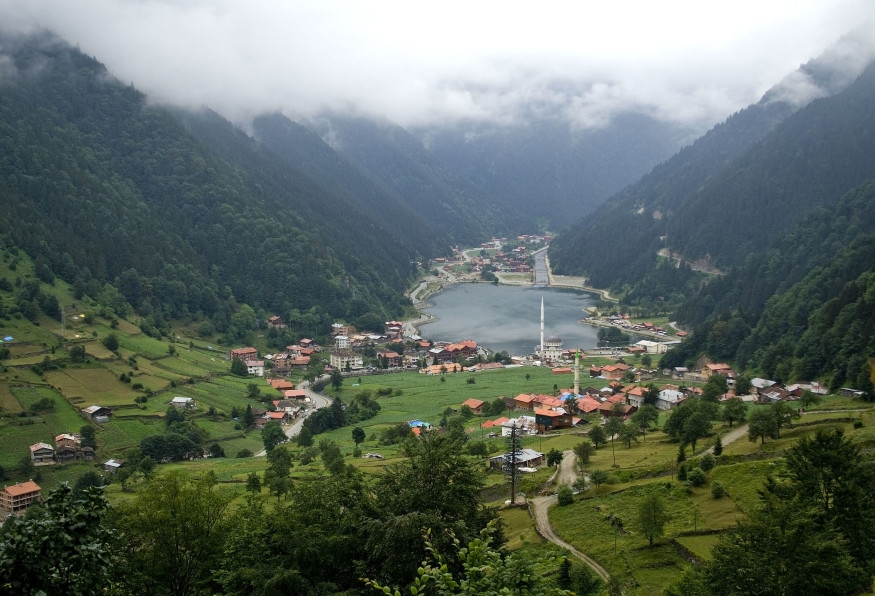 Discover the Best Attractions in Uzungol, Trabzon's Iconic Lake!
Uzungol, nestled in the enchanting region of Trabzon, Turkey, is renowned for its captivating lake surrounded by majestic mountains. Whether you seek natural beauty, exhilarating adventures, or a tranquil getaway, Uzungol offers a plethora of attractions and activities to entice every traveler. Immerse yourself in the following attractions while visiting Uzungol:


Uzungol Lake
At the heart of Uzungol lies its crown jewel, Uzungol Lake. Take a leisurely stroll along its picturesque shores, rent a paddleboat, or simply bask in the serene ambiance. This iconic attraction offers remarkable photo opportunities and a chance to connect with nature's splendor.
Uzungol Mosque
Attractions adjacent to the lake, the Uzungol Mosque stands as a testament to the region's rich cultural heritage. This exquisite wooden mosque boasts intricate details and provides a serene atmosphere for contemplation and reflection.
Uzungol Swing
Experience a unique perspective of Uzungol by trying the renowned Uzungol Swing. Attractions Uzungöl nestled amidst nature, this swing offers an exhilarating ride as you soar above the lush landscape, creating unforgettable memories.
Uzungol Observation Deck
For breathtaking panoramic views of Uzungol and its surroundings, ascend to the Uzungol Observation Deck. Capture awe-inspiring photographs and marvel at the beauty that unfolds before your eyes.
Paragliding in Uzungol
Thrill-seekers can indulge in the exhilarating activity of paragliding in Uzungol. Soar through the skies, witnessing the mesmerizing landscape from a unique vantage point and creating an unforgettable adventure.
Shopping in Uzungol
Attractions Uzungöl, Delve into the local markets and shops to discover unique souvenirs and traditional Turkish crafts. Acquire handwoven carpets, local honey, aromatic teas, and other regional specialties to commemorate your visit.
Uzungol Children's Games
Uzungol caters to families with an array of entertainment options for children. Amusement parks, playgrounds, and fun-filled activities ensure that the younger ones have a delightful and memorable experience.
Indulge in a Turkish Breakfast in Uzungol
Commence your day with a delectable Turkish breakfast, or "kahvaltı." Relish an assortment of local cheeses, olives, freshly baked bread, homemade jams, and traditional Turkish tea while embracing the serene atmosphere of Uzungol.
Sample Kuymak Cheese
A culinary highlight of the region is Kuymak, a traditional local cheese dish made with cornmeal and butter. Embark on a flavorsome journey by savoring this regional delicacy, delighting your taste buds with its rich and creamy texture.
Discover Enchanting Places Near Uzungol
Kible Dagi Camii
In close proximity to Uzungol lies Kible Dagi Camii, a historic mosque celebrated for its remarkable architecture and panoramic views of the surrounding mountains.
Huser Yaylasi
Attractions Uzungöl explore the scenic wonders of Huser Yaylasi, a nearby highland village. Immerse yourself in the fresh mountain air, traverse picturesque hiking trails, and relish the tranquility of the area.
Ayder Yaylasi
Another captivating destination near Uzungol is Ayder Yaylasi, a charming alpine village. Rejuvenate yourself in the therapeutic thermal baths, embark on invigorating hikes amidst lush green valleys, and savor the delectable local cuisine.
Discover the Charms of Uzungol with TravelShop Booking
To make the most of your visit to Uzungol, it is advisable to book your accommodation in advance through TravelShop Booking. This will help you secure the best rates and ensure a smooth and enjoyable travel experience.
In summary, Uzungol beckons travelers with its captivating attractions, ranging from the iconic Uzungol Lake and charming mosques to thrilling paragliding adventures and culinary delights. Nearby destinations like Kible Dagi Camii, Huser Yaylasi, and Ayder Yaylasi offer additional opportunities for exploration. Choose from a variety of accommodation options through TravelShop Booking to find the perfect place to stay in Uzungol and create lasting memories in this breathtaking natural paradise.