Island Peak Climbing With Everest Base Camp – 19 Days
From Kathmandu to Everest Base Camp, 19 days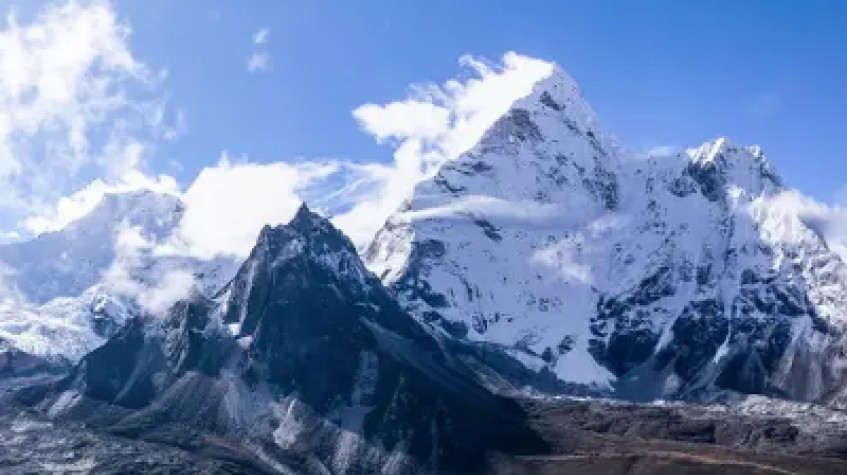 Tour Overview
Tour Language(s):
English
Group Size:
1 - 2
Suitable Ages:
2 - 79
Tour Provider:
Alpine Club of Himalaya
The Everest Base Camp EBC Trek combined with Island Peak Climbing takes you to magnificent scenery and frozen peaks of the mountainside along this ancient trading route, you'll start your journey from Kathmandu to Lukla the gateway to Everest, once you land at Lukla you'll officially begin the trek following the trail to the Dudh Koshi Valley surrounded by the massive mountain peaks of Thamserku (6623m), Kusum Kanguru (6367m) the "Three Snow-White Gods", passing various settlements along the way to Everest Base Camp and towards the summit of Island Peak. Locally known as Imja Tse the Island Peak was named by earlier Mt.Everest explorers, as the peak appears as an island in a sea of ice.
The next stop is the renowned vantage point of the Everest region Kala Patthar, an enormous rocky mountain slope that offers visitors panoramic views of the world's tallest mountains, including Mount Everest, Mount Nuptse, Mount Changtse, Mount Lhotse, and Mount Pumori which gives you a true sense of scale and beauty of the gigantic mountain ranges, you'll also be crossing a high mountain pass of Kongma La Pass (5535m). Trekking in these part need good physical fitness and as well as our climbing team will guide you with acclimatization excursions and pre-climbing training.
Highlights
Trek to the base camp of the highest mountain of the world., Climb Island Peak, at an elevation of 6189 meters., Hike to Kalapathar a renowned vantage point of the Everest region., Cross high altitude mountain pass the Kongma la Pass (5535m)., Explore and learn about Sherpa's traditions, cultures, and customs., Witness panoramic views of endless magnificent summits., Visit historical sites and ancient monasteries at the foot of the mountains., Trek through Sagarmatha National Park a UNESCO world heritage site.
Itinerary
Welcome to Kathmandu, a city full of vibrant markets, bustling streets, colorful temples, and grand pagodas. A representative from Alpine Club of Himalaya will meet you at the airport and escort you to our accommodation and after a brief rest, you may stroll the town on your own or have a guided city tour (depending on your arrival time).
In the evening, your climbing guide will give you a briefing and provide you with information regarding the trek. In the evening join in a dinner program with your team.
Duration: 4-5 hours
Catch an early morning flight with your climbing guide from Kathmandu to Lukla which usually takes around 35 minutes with soaring views of endless mountain ranges and green hills, upon landing at Tenzing-Hilary airport you'll begin the trek, the trail is a relatively easy trek and passes through the village of Kani from here you'll descend towards Kyangma village, then continue to Cheplung village where the trail passes through community forest within bird's eye view of the Dudh Koshi River. After crossing the suspension bridge you'll climb across a ridge to Ghat and then pass a school and dotted Mani walls, Chortens, and prayer wheels to the settlement of Phakding.
Duration: 5-6 hours
After an early breakfast, head towards the trail crossing numbers of suspension bridges over the Dudh Kosi River before passing through Tok-Tok, Bhenkar, and Monjo and then arriving at Sagarmatha National Park entrance gate where your permits are checked, from here you'll be following the river bank for a few hours and before crossing the famous Hillary suspension bridge, from here the trail ascends to Namche Bazaar. Namche is regarded as the economic hub of the region where you'll find a good selection of restaurants, cyber café, pubs, post offices, ATMs, and banks.
Today is your first day of acclimatization, and Namche Bazaar has various vantage points for acclimatization hikes. A short hike to Everest View Resort, Thame, Khunde are some of the ideal locations for acclimatization, you can later explore Namche Bazaar economic center of the Everest, Khumbu region, you'll also be exploring Tourist Visitor Center near the headquarters of the Sagarmatha National Park, where relics of the first mountaineers to climb Everest are displayed, learn about Sherpa culture and traditions.
Duration: 5-6 hours
The trek today continues along the banks of raging glacial waters of the Dudh Koshi River with majestic views of the mighty Mt. Everest, Lhotse, Taboche peak, Amadablam, Nuptse, Thamserku, and Kwangde, following the river and passing through dense woodlands and undergrowth stretching for miles you'll eventually reach the village of Tengboche at an altitude of 3,800 meters.
The settlement of Tengboche is named after the Khumbu region's oldest Buddhist monastery Tengboche Monastery, set on a rugged landscape with a close-up view of Ama Dablam, regarded as one of the world's most picturesque mountain peaks. Explore the monasteries' ornate walls with the sculpture of Buddha, ancient musical instruments, and robes of the Lamas, Furthermost attend to the monks' trance-inducing hum and chanting.
Duration: 4-5 hours.
The trek from Tengboche to Dingboche is only a short distance of around four to five hours, you'll pass the high pasture lands and the Imja Khola on your way to Pangboche, from here proceed towards Dingboche passing the settlements of Somare and then to Orsho. From here the trail divides, heading up to Pheriche where you'll be crossing a suspension bridge and after a brief uphill climb you'll reach the settlement of Dingboche.
Duration: 4-5 hours.
This is your second day for acclimatization and there's plenty to do here for trekkers, having various vantage points around the settlement. Take an acclimatization hike to Nagarjun Hill at an altitude of 5,083 meters on the edge of the village, the hike has no challenging aspects except altitude so take it slow and have frequent rest.
One of the outstanding viewpoints in the Khumbu region Nagarjun Hill also known as Nangkatshang, you'll witness breathtaking 360-degree views of Makalu, Lhotse, Ama Dablam, Kantega, Thamserku, and other mountain peaks and glaciers. Get a closer look at Island peak which you'll be climbing in a few days.
Duration: 5-6 hours.
After breakfast, you'll start the trek towards Thukla before crossing the steep terminal moraine of the Khumbu Glacier, and then passing through the rough stony slopes toward Chupki Lhara, where you'll see colorful prayer flags covering the stones, a memorial to Scott Fischer (American mountaineer) and 10-time Everest climber Babu Chiri Sherpa (Nepalese Sherpa mountain guide) who perished on a mission to climb Mt. Everest.
The path then continues to the Khumbu Glacier moraine on the backdrop of beautiful mountain peaks of Khumbutse, Lingtren, and Mahalangur Himal till the settlement of Lobuche.
Duration: 7-8 hours.
After an early breakfast head towards the trail through Gorak-Shep to the Everest Base Camp.
As the altitude rises, the air gets thin and the trek may be exhausting, so take it slow and have frequent rest making photography your excuse. From Gorakshep, you'll be traversing through rocky dunes, moraine, and streams before reaching the Mt. Everest Base Camp.
At Everest Base Camp you'll be walking on the foothills of some of the world's highest mountain peaks, it is raw and wild here with nothing else, but a colorful dotted camp used by climbers waiting to scale the mighty Everest. The mountain peaks of Khumbutse, Nuptse, and Pumori bring the destination to life. After spending a brief time at base camp head back towards Gorakshep.
Duration: 7-8 hours.
Start early today at around 4 a.m. as it is very important to climb the summit before dawn, as the weather deteriorates as the day goes by, the temperature is low and you'll experience cold winds which are common at this altitude.
Kalapathar is a renowned vantage point of the region, an enormous rock at an altitude of 5,550 meters above sea level trekkers often summit the peak to witness 360-degree views of towering peaks of Everest, Khumbutse, Lingtren, and Changtse and endless Himalayan ranges which stand out sharply under the sea of clouds. After taking in the panoramic views and exploring the surrounding retrace your steps back to Lobuche.
Duration: 8-9 hours.
After an early breakfast, head towards the Khumbu Glacier as you'll be traversing through glacial moraines the trek today is harsh and difficult, follow your guide and take caution. As, you'll pass the Khumbu Glacier ascend towards Kongma La Base Camp which is at an elevation of 5000 meters so take it slow, as you'll reach the summit of the pass you'll be welcomed by colorful prayer flags, after spending a brief time at the pass slowly descend to Imja Khola Valley and then down to the small settlement of Chhukung.
Duration: 4-5 hours.
Today you'll be reaching Island Peak Base Camp which takes around three to four-hour trek on a steep rocky terrain crossing the moraine below Lhotse Glacier and then follows a small stream over the Imja Khola, as you pass this terrain you'll come out at a wide valley in the south-west region of the Island Peak. Once you reach the base camp head towards your tent setup by your climbing team and rest.
Today is your pre-climbing training, your climbing guides will instruct you on various climbing techniques and use of an ice ax, climbing boot crampons, harnesses, ascenders, show you how to use the ropes during the ascent and descent. This training is not too technical but is necessary to ensure your safety and confidence.
After some basic training, explore the area and head towards any vantage point. High Camp is another ideal point for an acclimatization hike. Rest and relax after completing your pre-climbing training.
Duration: 8-9 hours.
Start early as you'll be climbing the Island Peak today, wake up around 1 am, and in around 1.30 head towards the trail. The first part of the climb takes you along a sheer cliffside and narrow pathways covered with boulders, then crosses a rather steep gully and from here you'll follow the ridgeline to the base of the glacier that reaches all the way to the summit. A sharp incline on a snowy slope takes you to the summit, on this section your climbing guides will attach ropes, the rope usually stretches to about 350 meters depending on the depth of snow and crevices.
Once you'll reach the summit sit back, relax and soak up some of the most mind-boggling views you will ever see, from the summit everywhere seems near.
After spending some time at the summit descend back to Island Peak Base Camp. Celebrate the success of your climb once you reach the base camp.
Duration: 6-7 hours.
After an early breakfast, head out on the trail again and retrace your steps back to Tengboche passing through dense alpine, conifers woodlands, raging glacier rivers, and various small streams. Once you reach Tengboche leave your heavy backpacks and explore the village or visit the monasteries of the region.
Duration: 5-6 hours.
Continue on a descending trail across hillside blanketed by colorful rhododendron, juniper, oaks with moss-draped trees, orchids, ferns, and miles of undergrowth vegetation.
After crossing the bridge over the Dudh Koshi River the trail continues through the Dudh Koshi gorge descending rapidly through the pine forests before reaching the settlement of Sansa.
Along the way keep your eyes peeled as the unique wildlife of the region can pop out anytime. Himalaya Thar known as mountain goats, snow leopards, red panda, musk deer, and grey wolf is some of the animals found in this region and more than 250 species of birds including the national bird on Nepal Lophophorus. Following the trail, you'll pass by a Chorten and towards the army camp at Namche Bazaar. Once you reach here head towards your accommodation.
Duration: 6-7 hours.
Today you'll be returning back to Lukla the starting point of your trek, as the trail, today is relatively easy to take it slow and stop by for a friendly little chat with the locals along the way. Once you reach Lukla head out and celebrate your last day in the mountains.
Duration: 30 minutes flight.
Head towards Lukla airport and catch an early flight to Kathmandu. Once you arrive at Kathmandu rest or head out yourself or have a guided tour of the city. Stroll around and do some souvenir shopping.
Later in the evening join in for a special dinner program to mark the end of your journey with your climbing guides and our representatives.
Today you'll be returning back to your country. Alpine Club of Himalaya representative will drop you at the airport three hours before your flight departs.
If you have any inquiries or require assistance and further information about this trip or any other trips, please feel free to contact Alpine Club of Himalaya – Walk of the Himalaya.
NOTE: All of the aforementioned trekking hours are approximations and should only be used as a general guideline.
Included
In Everest Base Camp Trek combined with Island Peak climbing, you'll be provided with various ethnic cuisines and varieties of western meals. The Everest region has a number of tea-house to luxury hotels from which you can choose from providing basic facilities to grandeur ones. Try various traditional cuisine and popular snacks including locally made dairy items such as cheese, Churpi, and milk-based delicacies.
Similarly, drinking water taps are accessible with natural water supplies which are untreated, so direct use of the water is not recommended, you may refill boiling water or cold filter water from any of the teahouses. However, if you buy a water purification tablet, chlorine drops, or utilize SODIS (sunlight assisted) filtration procedures for further assurance saving money, and reducing plastic pollution.(Full Board)
Private vehicle / Flights
Cost Include
Arrival and departure transfer services to and from both domestic and international flights as per itinerary.
2 Night hotel accommodation in Kathmandu including breakfast. 3* and Twin Sharing
Experienced and government licensed high altitude climbing and trekking guides during the trekking and climbing period
Schedule flight tickets for Kathmandu-Lukla-Kathmandu to all the climbing members and climbing guides.
3 meals a day, breakfast, lunch, and dinner with tea/coffee available in the tea house/hotel/lodge during the trek.
Professional porters with proper safety equipment and walking equipment, his salary, food, accommodation, and insurance (one porter for two people).
Trekking permit (Sagarmatha national park entry fee).
TIMS card (Trekking Information Management System).
Climbing permit of Nepal government to climb Island Peak.
First aid medical kits for the group and the staff.
Use of sleeping bag, down jacket, duffel bag, and walking poles (if you don't have your own, to be returned after trip completed).
Helicopter rescue insurance for high-altitude staff.
Trekking and climbing map of Island peak.
Our service charge and government taxes are levied in Nepal.
Farewell dinner in a typical Nepali restaurant with a domestic culture show in Kathmandu.
Alpine Club of Himalaya T-shirt.
Oxygen meter to check your pulse and oxygen saturation and heart rate twice daily (Very useful to check Altitude Mountain Sickness symptoms which will ensure your health during the trek.
Ncell Sim Card (Nepalese Sim Card including 20 GB data pack) - Only 1 for a group.
Clothing
Upper Body:
One T-shirt Icebreaker Merino 150 or lightweight 200.
Two long Icebreaker Merino 150 or lightweight 200 shirts.
One polar fleece pullover, medium weight.
One polar fleece jacket.
One Gore-Tex waterproof and breathable jacket with a large hood to accommodate a climbing helmet.
Lightweight down jacket for chilly days in base camp or warm layer when stopping for short breaks.
One very warm goose-down (duvet) jacket with hood or a down/duvet suit if you prefer, for high altitude use.
Hands:
One pair of lightweight poly-liner gloves.
One pair of mittens consists of 1 Goretex over mitt matched with the very warm polar fleece mitt liner
Heads:
Warm hat wool or synthetic that covers your ears
Balaclava
Scarf or neck sleeve
Face mask
Ball cap or brimmed sun cap
Glacier Sunglass with side shields
Lower Body:
One pair of walking shorts for trekking
Two pair Icebreaker Merino 150 or lightweight 200 thermal bottoms
One pair of Icebreaker Merino 200-weight thermal bottoms
One pair of polar fleece trousers
One pair of Gore-Tex trousers or bibs. Waterproof/breathable with full side zips
One pair of Goose-down (duvet) trousers or bibs. You may prefer a down (duvet)
Feet:
One pair One-Sport Millet climbing Overboots or equivalent (with Aveolite liners; good quality plastic shells with inner boots; avoid tight fit with heavy socks.)
One pair of sturdy leather or synthetic (Gortex) hiking boots with good ankle support for the walk to advanced base camp
Two Pairs of liner socks. Polypropylene or wool
Two pairs of lightweight trekking socks, poly or wool
Light Icebreaker Merino wool or cotton socks for in-town.
Rucksacks and Travel Bags:
One medium rucksack (50-70 liters / 3000-4500 cubic inches, can be used for airplane carry).
One large (120 L / 7500 cubic inches) duffle kit bag for clothing and equipment. Must be durable for use on pack porter.
Sleeping Gear:
For high altitude, one down (duvet) sleeping bag (rated to –25 C (-30 F). In the high camp, you can sleep in your down (duvet) clothing inside your sleeping bag;
Excluded
Local accommodations are available with minimal facilities to luxury ones, trekking lodges and teahouses are located all along the trail, which provides basic accommodation to luxury ones you can choose from these supplies include twin sharing beds as well as a single bed. Campsites are also available along the trail with rubbish pits, toilets, and shelters providing a special opportunity for the campers. As you'll be camping for a few days too.(

Hotel and Tea house

)
All clients engaging in any activity must have smart travel insurance or emergency evacuation insurance. Alpine Club of Himalaya highly suggests you obtain a comprehensive insurance plan from a reliable insurance firm that covers emergency evacuation insurance in high altitudes, personal injury, hospital expenditures, repatriation fees, helicopter rescue, and any other misfortune.
Cost Exclude
Lunch and Dinner during your stay in Kathmandu (except farewell dinner).
Any packed food/snacks, aerated drinks, energy drinks, mineral water, alcohol, cigarettes, chocolates, health bars.
Items of personal nature - laundry expenses, tips.
Rescues, repatriation, medicines, medical tests, and hospitalization expenses.
Medical insurance and emergency rescue evacuation if required.
Travel insurance and helicopter rescue.
Airfare of international flights.
Nepal entry visa fee (easy to obtain the visa on arrival at Tribhuvan International Airport – Kathmandu). $30 USD for a 15-day visa.
Personal climbing gear.
Tips, gifts, souvenirs.
Tips for the guide, porter, and driver (tipping is expected)
Good to Know
As a company, we are always honored to protect the benefits of our business partners and guests, and to always provide the best price, the best package and convenience in cancellation conditions for them.
Below cancellation policy is only for land services and we will follow the cancellation policy of airline companies for domestic flights.
If the booking is canceled 8 weeks to the departure you can get full refund.
If the booking is canceled 7 weeks to the departure, we will refund 100 EUR only.
If the booking is canceled 3 weeks prior to the departure, you will not be refunded. Under any circumstances, there will be no refund for the promoted tours. The balance will be identified as "Future Tour Credits" to use in the future. Please contact [email protected] or your tour operator to change tour dates and other details.
Under any circumstances, there will be no refund for the promoted tours. The balance will be identified as "Future Tour Credits" to use in the future. Please contact [email protected] or your tour operator to change tour dates and other details.
No refunds will be provided for tours sold during Black Friday under any circumstances to travelers or operators.
Need help? Get more information
Kindly feel free to ask the tour provider for details on pricing, quotas, and additional information.