Hierapolis Ancient City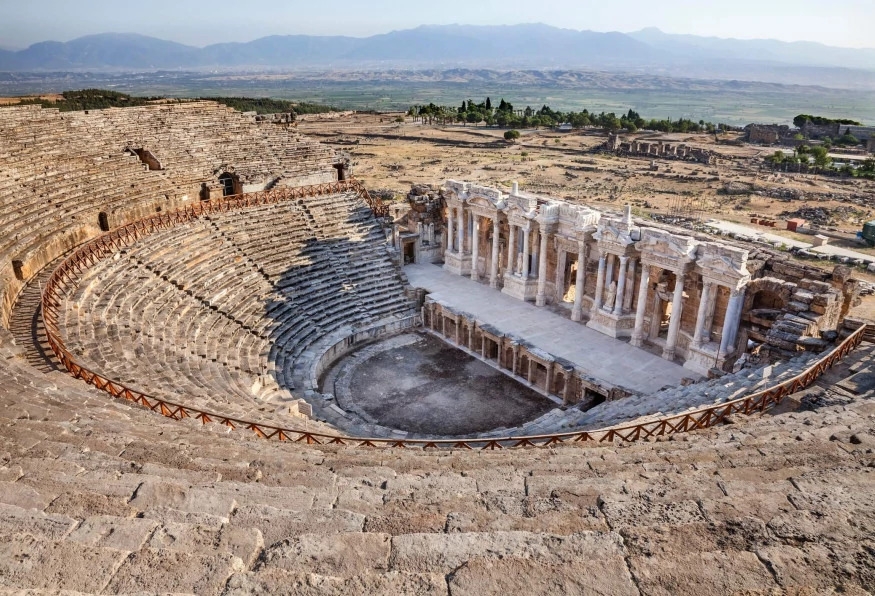 Hierapolis, since the ancient era, has been a popular sacred and touristic region, rising on the spring water that makes it a favorite relaxing place. Cicero, Emperor Hadrian, and Caracalla, Philosopher Damascius are region's some famous visitors. It has been known that the city was founded by Eumenes II. the name, Hierapolis was inspired By Hiera, queen of the Amazons, wife of Telephus.
The city is also a sacred district for both ancient beliefs and Christianity. The Ploutonion which had been believing that the gate of hell was in the city, was described by ancient writers Strabo, Cassius Dio, and Damascius still can be seen today.
The theatre which was used for the organizations of venationes and gladiator schools once, Apollon Temple, and Roman baths and more ancient, historical sites were taking place in the city.
The city used to have grown with Hellenistic urbanization features since the major earthquakes in 17 A.D. and 60 destroyed the city. Later it was rebuilt in the Roman style with imperial financial support however it was in the earthquake zone, got harmed by earthquakes in centuries again and again.
Hierapolis has rich ancient treasures that include; Necropolis, Domitian Gate-road, temples or shrines of Cybele, Artemis, Pluto and Poseidon, Frontinus street and gate, Agora, Gymnasium, water channels, nymphaeums, Direkli Church, Necropolis Area, Cathedral, Roman Baths, and Medusa figured gate and more…
Plus a modern museum was built inside in an ancient bath, the statues of Tyche, Dionysus, Pan, Asklepios, Isis, Demeter, and Trion, the depictions of the abduction of Persephone by Hades, Apollo, Leto, Artemis, and Hades, and sculpted sphinxes are the rare historical artifacts of the museum.
In 1988, it was added to a UNESCO World Heritage Site list. It is 20 km away from the city center and paragliding, hot air ballooning are good ways to observe the city.