Mevlana Museum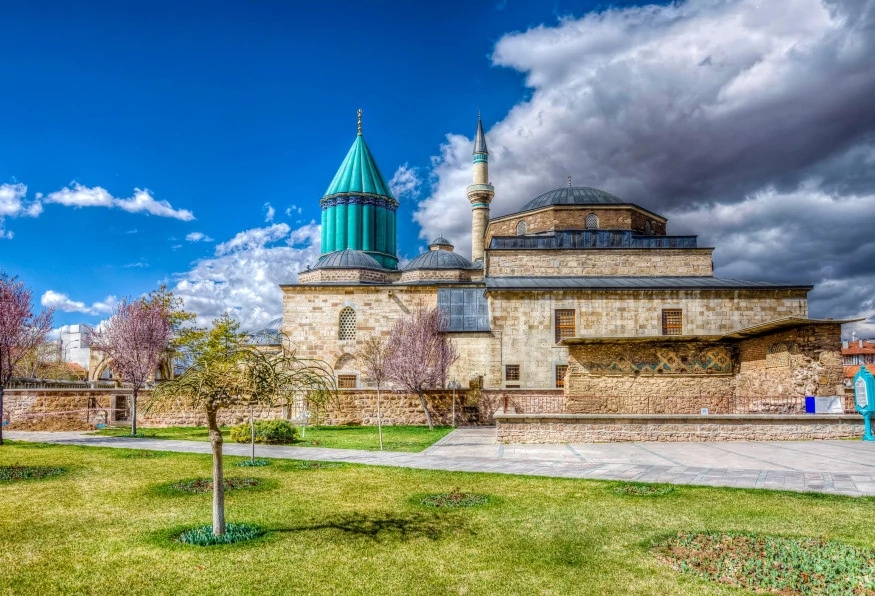 Mevlana/Mawlana's real name is Jalal ad-Din Muhammad Rumi who is the Persian Sufi mystic and also the founder of the dervish lodge (tekke) of the Mevlevi.
He is best known for the whirling dervishes tradition and the book Masnavi which is a poem based on independent, internally rhyming lines and constituents of his doctrine's bases.
Masnavi had influenced Iranians, Tajiks, Turks, Greeks, Pashtuns, other Central Asian Muslims, and the Muslims of the Indian subcontinent. It translated into many of the world's languages and some resources are stated that it is the "most popular poet" and the "best selling poet" in the United States.
After he died Iranian architect Badr al-Din Tabrizi with the wish of his successor Husamettin Celebi, built his tomb in 1274 first on four elephant feet (column). Then, under the reigns of Süleyman the Magnificent, Murad III, Yavuz Sultan Selim, Mehmed III, and Abdul Hamid II, constructions progressed by adding the tomb Matbah (kitchen), the sadirvan (washing fountain), and else... Since 1927 it is a museum. In the museum, many scenes can be seen about the dervish lodge. It has been known that it is the third most visited museum in Turkey, after Istanbul Hagia Sophia Museum and Topkapi Palace Museum.