Yivliminare Mosque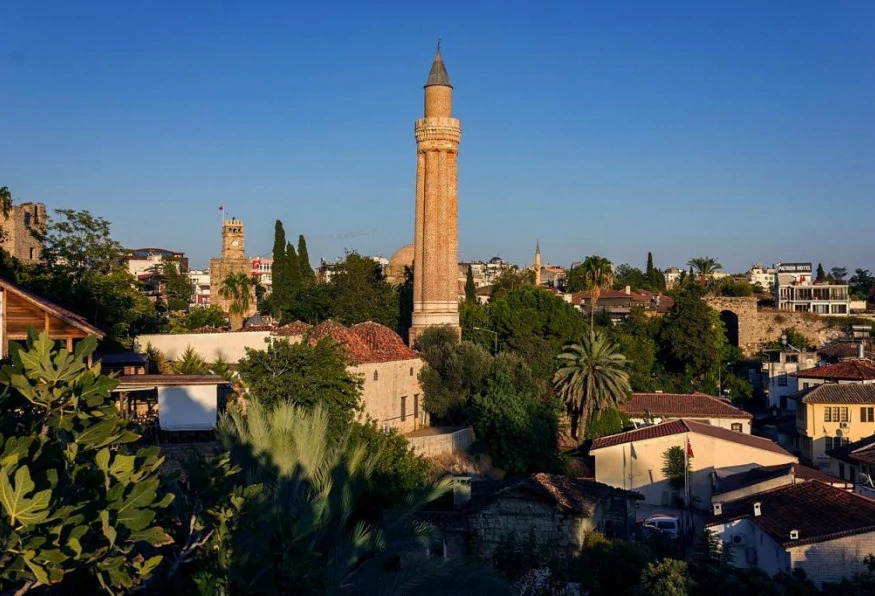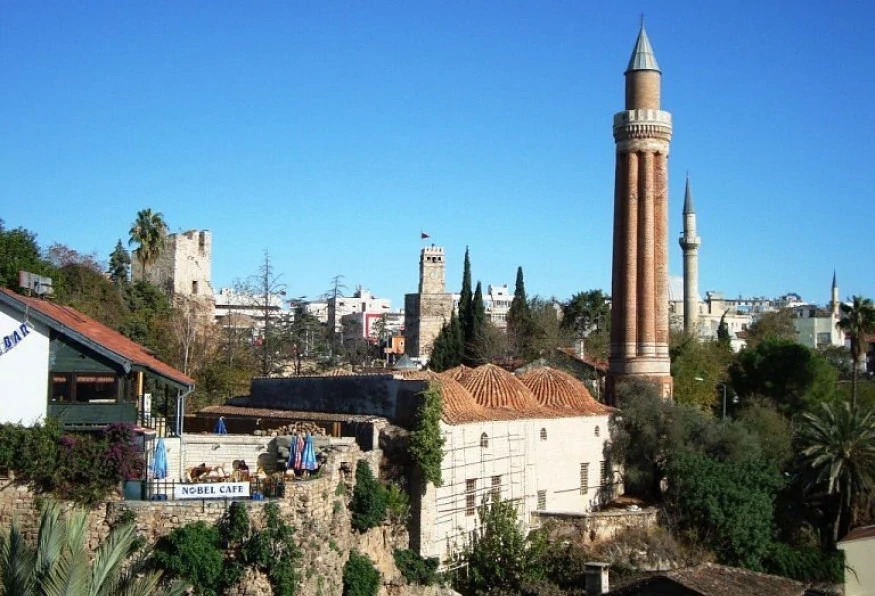 Yivli Minare is the first Islamic structure in Antalya that belongs to the 13th century, built by Atabey Armagan in honor of Seljuk Sultan Alaaddin Keykubad I. However this first mosque was harmed and Hamidids, the dynasty who were ruled southwestern Anatolia around 14th-century, rebuilt it in 1373. It is a complex that includes the structures Yivli Minaret, Yivli Mosque, the madrasas Giyaseddin Keyhusrev, Seljuk and Karatay, Mevlevi Lodge, Zincirkıran Tomb, and Nigar Hatun Tomb in Antalya Kaleici.
Yivli minaret is 38 m high and takes its name from the tower which is decorated with red brick that looks like a groove and is decorated with dark blue tiles from the inside. It was inscribed in the Tentative list of World Heritage Sites in Turkey by Unesco in 2016. Today it is the symbol of the city and hosting for the collection of the Antalya Ethnography Museum.
Giyaseddin Keyhusrev Madrasa was built by Atabey Armagan arıund 1239. The inscription on the entrance stated that he was the emancipated slave of Mubarizeddin Ertokus, the Governor of Antalya in the Seljuk period and Atabey Armagan become the new Governor of the city.
It has been believed that Seljuk Madrasa was built in the 13th century. Today it has been restored and serves as a bazaar. Karatay Madrasa on the other hand is the only madrasah from the Seljuk period in Antalya and has a rectangular plan and was built completely handcrafted cut stone materials.
Mevlevi Lodge was turned into a Mevlevihane in the 18th century by Tekelli Mehmet Pasha but no information about how it was built first. It is State Fine Arts Gallery now.
Nigar Hatun Tomb was built for Ottoman Sultan II Bayezid's wife and Şehzade Korkut's mother Nigar as a grave.
Zincirkiran Mehmet Bey Tomb is located at the east of Mevlevi Lodge, built-in 1377 by Mubarizeddin Mehmet Bey as a grave for his son Ali.