5 Day Cappadocia to Istanbul Tour
From Cappadocia to Istanbul, 5 days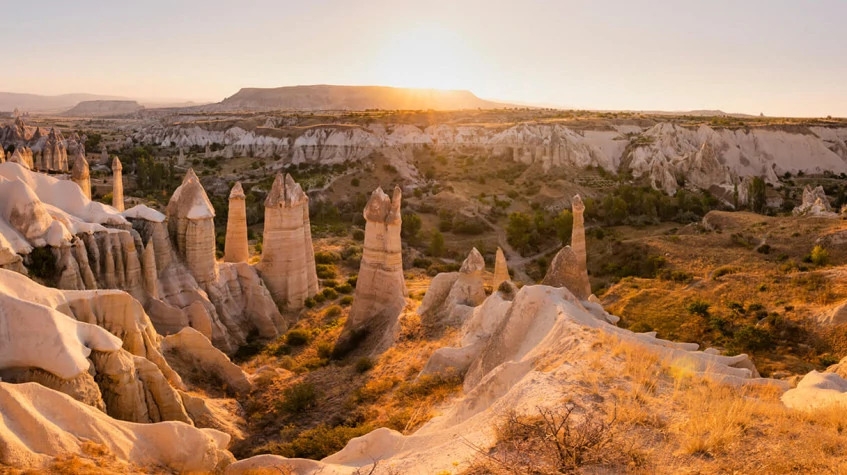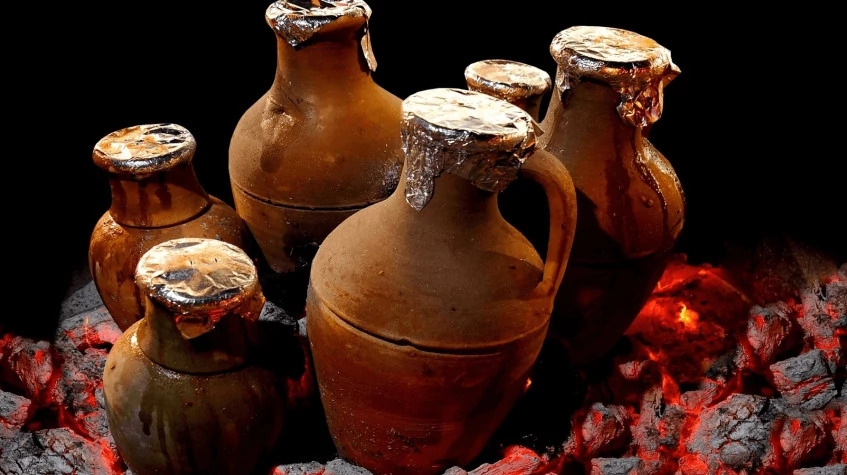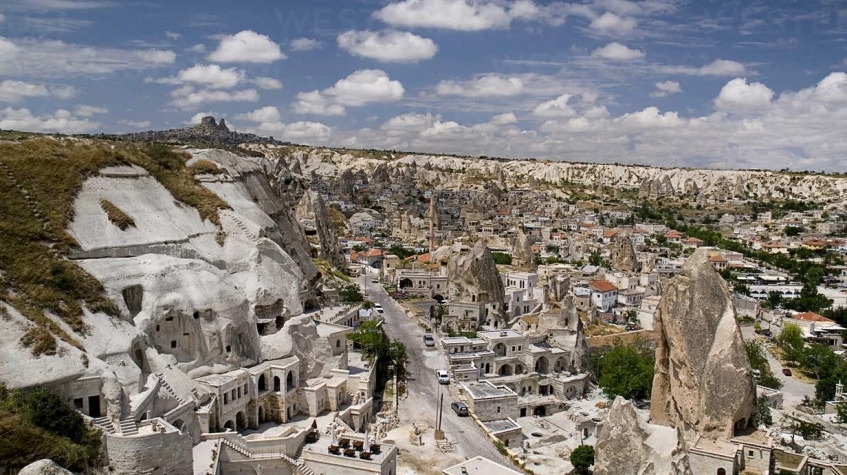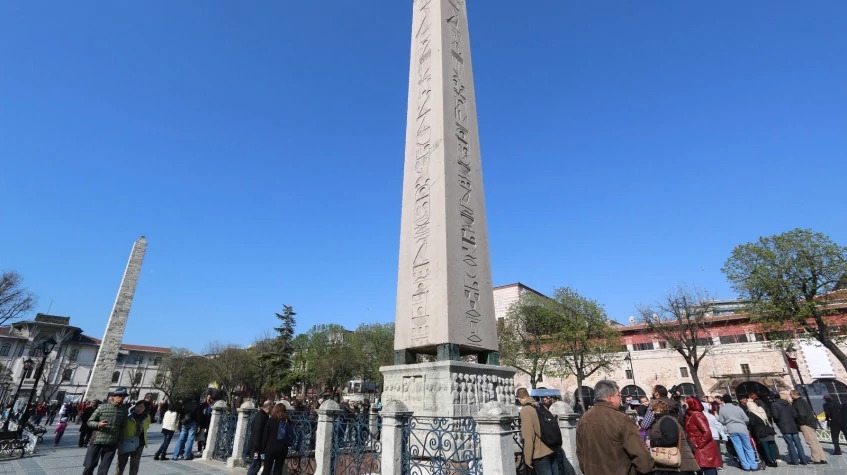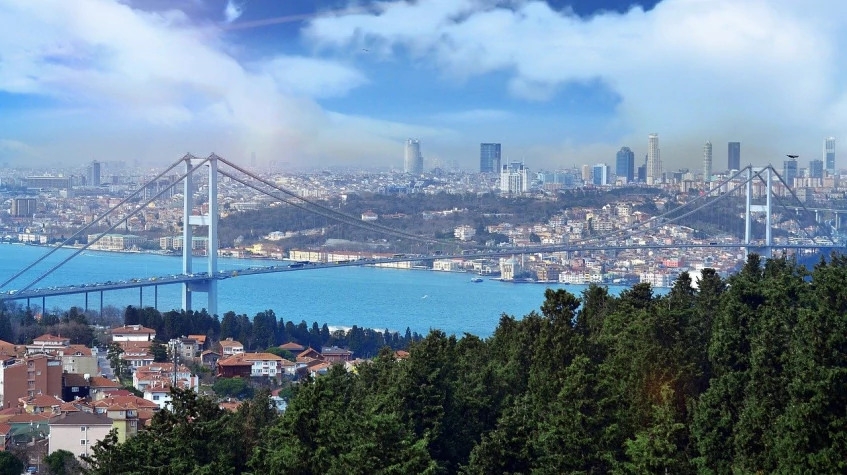 Tour Overview
Tour Language(s):
English
Group Size:
1 - 40
Suitable Ages:
0 - 99
Tour Provider:
Travel Shop Booking
Welcome to Turkey! If you are looking for something special and extraordinary then look no further. From the minarets of Istanbul to the fairy chimneys of Cappadocia see two of the most spectacular and yet diverse destinations in Turkey. Enjoy first class service and guided transportation through the historical and picturesque sites of Istanbul and the underground cities of Cappadoccia. This an exquisite tour for you with all the bells and whistles.
Itinerary
(Dinner included)
Arrive to Kayseri transfer to the Cappadocia region, driving 1:20hrs by vehichle. First we will have lunch then start your day with the Fairy Chimneys in Urgup. Meet the most famous family of fairy chimneys: Three beauties. These are the offical symbol of both Urgup and Cappadocia. Then drive to Ozkonak Underground City. At the end of the tour transfer to the hotel.
Dinner and overnight in Cappadocia
Optional Turkish Night Shows, which are traditions that have survived from the Ottoman Empire to the present day. You may have great fun in the real caves, with the rich Anatolian
food menu, unlimited local alcoholic and non-alcoholic drinks, belly dance show, Turkish Folklore show, DJ Performance and warm service of Anatolian Hospitality.
your hotel. Dinner and Overnight in Cappadocia
(Breakfast, dinner included)
Hot Air ballooning with sunrise
Pickup time is very early morning, before sunrise. You will fly over the valleys of Cappadocia full of rock formations, fairy chimneys, and natural beauty. The actual flight starts before sunrise and an effective flight in the air is about 1 hour and 30 minutes. You will back at the hotel around 8:30 am. You have a Champaign celebration at the end of the flight.
STANDARD BALLOONING ( Size of Basket 18- 25 people ) Average of 45 minutes to 1 hour in the air
Price: Please request availability and rates.
RATES INCLUDING:
- Balloon flight as specified
- Transfer from your hotel in Cappadocia and back
- Coffee and cookies before take-off
- Souvenir certificate after landing
- Champaign celebration…
After breakfast at 09:00 am pick-ups from hotel. We will drive to Uchisar Castle, the highest point of Cappadocia. After Uchisar, you visit Goreme Open Air Museum, the Heart of Cappadocia. Goreme Open Air Museum is famous for frescoes dating to 10th century describing the life of Jesus Christ and monks. Next stop is Cavusin, which is an abandoned village with old cave Greek houses. After Cavusin you go to the restaurant in Avanos to have lunch. After lunch, you visit a pottery work shop, to see how to make potteries. Then you go to Love Valley . Love Valley Cappadocia is a hidden valley with scenic formations to say the least. Despite the resemblance to man hood, these amazing rock formations are far from man-made. After Love Valley you visit another workshop to see Cappadocian handwoven carpets and kilims. Next stop is Devrent Valley, which is also called
Imagination Valley, where you can see natural rock formations looking like animals. Then you head to a wine shop in Urgup for wine tasting.. This tour will end approximately at 4pm and after the tour transfer to the hotel.
Dinner and overnight in Cappadocia.
(Breakfast included)
After breakfast transfer to the airport for Istanbul flight. Arrive, meet and assist then drive to old city.
Lunch break at 13:00 pm.
Our first visit will be Hippodrome. Ancient Hippodrome was the scene of chariot races, with the three monuments; the Obelisk of Theodosius, the bronze Serpentine Column, and the Column of Constantine.
First place to visit is Hagia Sopia Mosque. The Hagia Sophia Grand Mosque, previously known as the Church of Divine Wisdom, is simply the best of its kind! Hagia Sophia Grand Mosque is the greatest surviving example of Byzantine Architecture. For 1000 years, it was once the largest church in the world, decorated with stunning 6th century golden mosaics. Today it is a mosque. Our next visit will be Topkapi Palace the great palace of the Ottoman sultans from the 15th to the 19th centuries housing an exquisite collection of crystal, silver, and Chinese porcelain, robes worn by the sultans and their families, the famous jewels of the Imperial Treasury, miniatures, the Holy Mantle; enshrining relics of the Prophet Mohammed. Then we will visit Sultanahmet Mosque. Across from Hagia Sophia Grand Mosque, it was built in the 16th century by the architect Mehmet, is known as the BLUE MOSQUE because of its magnificent interior decoration of blue Iznik tiles. Then, Grand Spice Bazaar which is a unique atmosphere with reasonable prices for your shopping on many exotic spices and herbs, Turkish Baklava, Turkish Delights, Turkish Coffee, nuts and fruits, small souvenirs such as ceramic handicrafts, Evil Eyes totems, all naturel olive oil, soaps and many other goods in Souvenir Shops and stores. After the tour transfer to the hotel. Overnight in Istanbul.
Please Note: Topkapi Palace closed on Tuesdays. If your tour is on one of these days we would offer you to visit Underground Cistern instead of Topkapi Palace Museum.
Please Note: Please do not forget to carry scarf with you because of visiting Blue Mosque & Haghia Sophia Mosque.
Optional
Whirling Dervishes Show. Mawlana Jalaladdeen Rumi or Rumi for short, a spiritual master and poet of the late 13th
century. Hodjapasha Culture Center; This new center was a 550 yrs old Turkish Bath recently converted to Hodja Pasha Show Center. It was built by Hodja Sinan Pasa who was a teacher and later vizier to Fatih SultanMehmet during the 1470s.
(Breakfast included)
Today we will discover the iconic residence of the Sultans of the Ottoman Empire!
Dolmabahçe Palace, the elegant palace of the Bosphorus, is one of the most magnificent symbolic structures of the Ottoman Empire's changing 19th century identity, with 365 rooms and 22 saloons. Famous with the great collection of European antiquity, furniture and 4.5 tons chandelier. You will notice that Dolmabahçe Palace has a more European style than Topkapı Palace. When the Ottoman Empire came to an end and the Turkish Republic was formed, the Palace was used as a State Residence for visiting dignitaries. Later, it became the Presidential Residence of Atatürk in Istanbul, and today it is a museum.
After lunch break we will proceed to the visit the Rüstem Pasha Mosque, has the most beautiful and delicate examples of classical Iznik tiles dating back to the 16th century. Hidden gem of a mosque that some describe as a miniature Blue Mosque, without the crowds then walk to Spice Bazaar; the market was called Mısır Çarşısı (literally translated Egyptian Market) because the story goes that it was built with money paid as duty on Egyptian imports. The annual "Cairo Caravan" would bring along spices from Egypt, just like Istanbul located on the trade route between the East and Europe. Overnight in Istanbul.
Please Note: Dolmabahce Palace is closed on Mondays and Thursdays.

Bosphorus Dinner Cruise. Enjoy delicious gourmet foods while you dance with the panoramic view of the Bosporus that separates the two continents Europe and Asia. The shore is lined with old wooden villas, palaces of marble, fortresses, and small fishing villages. You will see historical places like Dolmabahce Palace, Rumeli Fortress, Fatih Bridge, Beylerbeyi Palace, and Maiden's Tower.
Tour Highlights: Sail up the Bosporus, Dinner, Unlimited local drinks, DJ music, Anatolian Folk Dance, Belly Dancer
SHOW PROGRAM:
Katibim Show (A traditional Turkish melody musical performance)
Asuk Masuk (An imitation play of dwarfs which belongs to the Taseli district of Silifke and is performed by 2 male dancers)
Traditional Mixed Folk Dance
Belly Dancer
Caucasian Folk Dance
Professional DJ Performance
DINNER MENU:
Open Buffet or Fix Menu
Unlimited local Alcoholic Drinks (include a selection of local wines, beers, raki, vodka, gin, and soft drinks)
Turkish coffee
Drop off at the hotel at end of the tour.
(Breakfast included)
After breakfast transfer to Istanbul airport for your international flight.
Thanks for choosing TravelShopBooking.
Included
2 nights' hotel accommodation in Istanbul La Quinta Hotel By Wyndham
2 night hotel accommodation in Cappadocia El Puente Cave Hotel
Professional English - speaking tour guides
4 open buffet breakfasts
2 lunch service during the tours in Cappadocia
Arrival transfer from Istanbul Airport
Transportation in a fully air - conditioned, non - smoking coach
Return airport transfer
2 days Istanbul City Tour
2 days SIC Cappadocia tour
Hot air balloon ride
All entrance fees mentioned in the itinerary
Excluded
International flights
Kayseri – Istanbul flight
Excess bag fee on domestic flight
Turkey entry visa
Items of a personal nature such as alcoholic drinks, cold drinks, laundry
Any others expenses which are not mentioned at the included section
Good To Know
As a company, we are always honored to protect the benefits of our business partners and guests, and to always provide the best price, the best package and convenience in cancellation conditions for them.
Below cancellation policy is only for land services and we will follow the cancellation policy of airline companies for domestic flights.
If the booking is canceled 8 weeks to the departure you can get full refund.
If the booking is canceled 7 weeks to the departure, we will refund 100 EUR only.
If the booking is canceled 3 weeks prior to the departure, you will not be refunded. Under any circumstances, there will be no refund for the promoted tours. The balance will be identified as "Future Tour Credits" to use in the future. Please contact [email protected] or your tour operator to change tour dates and other details.
Under any circumstances, there will be no refund for the promoted tours. The balance will be identified as "Future Tour Credits" to use in the future. Please contact [email protected] or your tour operator to change tour dates and other details.
No refunds will be provided for tours sold during Black Friday under any circumstances to travelers or operators.
Black Friday tours can only be purchased during the campaign, and the prices are exclusively available during Black Friday 2023/2024.
Every traveler and operator who participates in Black Friday tours are required to review the inclusions and exclusions of the tour before making a purchase. TSG does not accept any responsibility in this regard.
No refunds will be provided for tours sold during Black Friday under any circumstances to travelers or operators.
Refunds are not available for balloon tours, even in the event of weather-related cancellations.
Tour dates and departure dates during the Black Friday deals are non-negotiable, as accommodation and transportation arrangements have already been made.
Please note that all entrance fees, whether for daily or multi-day tours to any destination, are not covered by the Black Friday prices.
All travelers and operators who purchased tours during the Black Friday campaign are presumed to have read and accepted the terms and conditions of the Black Friday campaign.
TSG reserves the right to change the terms and conditions.
---
Get more information
Kindly feel free to ask the tour provider for details on pricing, quotas, and additional information.